Coach Education / Coach Developer Legacy Award Hall of Fame
The United States Center for Coaching Education's Coach Educator/ Coach Developer Legacy Award was established in 2017 to honor individuals who have made a significant contribution to the field of sport coaching education and coach development in the United States.
Interested in nominating a candidate for the 2023 Legacy Hall of Fame? 
We are excited to announce the return of the USCCE Coach Developer Legacy Awards!  This year's inductee will be invited to attend the 2023 in person event in Birmingham, Alabama to be honored. Nominations for Legacy candidates will be accepted from USCCE members until March 1st.  Nominees do not need to be current USCCE members, but the nominating individual or organization should be.  Please contact info@uscoachexcellence.org with questions about the awards.
Daniel Gould is the Director of the Institute for the Study of Youth Sports (ISYS) and the Gwen Norrell Professor of Youth Sports and Student Athlete Well Being in the Department of Kinesiology at the Michigan State University. As Director he focuses his efforts on achieving the Institute's mission which is to provide leadership, scholarship and outreach that transforms the face of youth sports in ways that maximize the beneficial physical, psychological and social effects of participation for children and youth while minimizing detrimental effects. This is accomplished by providing professional leadership, conducting cutting edge applied research on critical issues in youth sports and physical activity, and engaging in educational service and outreach by designing programs to develop youth sport coaches, parents, administrators and officials, as well as young athletes themselves. Dan's current research focuses on youth leadership development, characteristics of Generation Z young athletes, and how coaches teach life skills to young athletes. Dr. Gould has been highly involved in the development of coaching education programs for the past 40 years. He has helped develop the National Wrestling's Coaches Association Coaching Leadership Academy Program, and has partnered with the Michigan High School Athletic Association, Think Detroit Police Athletic League, the American Sport Education Program, iHoops and the US Tennis Association in assisting them in their coaching education efforts. He has over 200 scholarly publications and over 50 applied sport psychology research dissemination-service publications. He has been invited to speak on sport psychology topics in over 30 countries and given almost 1000 coaching education presentations. Dan has secured numerous external grants to support his research and sport psychology educational efforts. Specifically, he has received funding from such organizations as the US Olympic Committee, the USTA, NFL Charities, the National Wrestling Coaches Association, USA Swimming, US Skiing, and USA Wrestling. Dan has written Reflections from a career in sport psychology as well as co-authored three books, Foundations of Sport and Exercise Psychology (with Bob Weinberg), Understanding Psychological Preparation for Sport: Theory and Practice of Elite Performers (with Lew Hardy and Graham Jones), and Handbook of Sport Coaching (with Cliff Mallett). In addition, Dan has edited five other books. He is especially proud of the numerous master's degree and 40 doctoral students that he has had the opportunity to advise and have gone on to pursue careers in sport and coaching psychology.
Annette K. Lynch
2019 Inductee
Cathy Sellers
2019 Inductee
Judith Young
2018 Inductee
Paul Roetert
2017 Inductee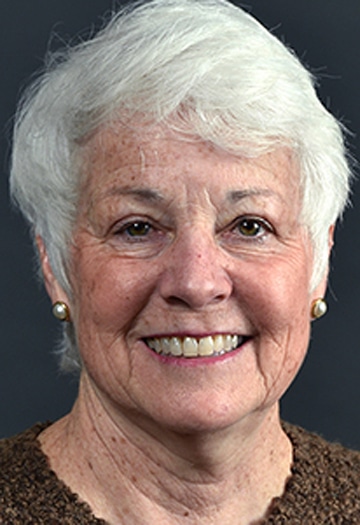 Jody Brylinsky
2017 Inductee
Tim Flannery
2017 Inductee