2022 North American Coach Development Summit
In-Person Summit June 8-10, 2022 in Spokane, Washington  
2022 Summit registration now open!
Can't join us? Don't miss out – learn more about the parallel virtual experience
2022 USCCE NACD Summit Schedule
* Master Classes are included in the Summit, In-Person registration. However, due to space and the nature of this event, please register separately for the Master Classes.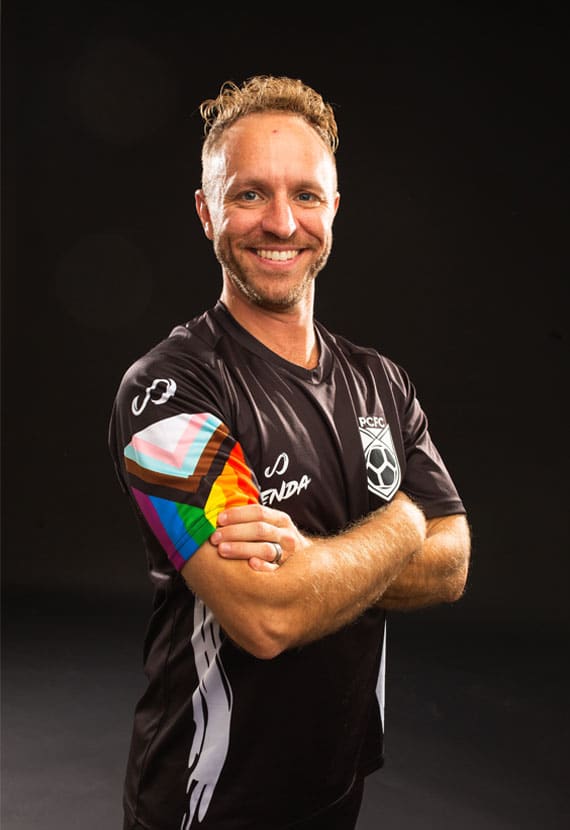 Kaig Lightner has been publicly speaking about his experience as a Queer, Transgender person for nearly 15 years. Through the telling of his own personal lived experiences mixed with relevant, tangible information, Kaig creates an environment of expansive growth mindset to teach others about the complex and often challenging subject of gender diversity and inclusion.
In 2017 Kaig started Quantum Gender LLC, to provide consulting and education for LGBTQ+ inclusion. He has provided services to Adidas, Oregon State University, US Youth Soccer and several other small businesses. In 2013 he started Portland Community Football Club, a non profit soccer club that provides high quality soccer with wraparound support for marginalized youth. Kaig graduated from Portland State University in 2012 with a Masters in Social Work and taught as an adjunct professor in the department from 2016-2021. In his precious free time Kaig can be found on the soccer field coaching or playing, and spending time with his partner Jimmy, their pitbull Charlie and two cats, Leo and Stevie.
Zac Crawford joined US Soccer in October 2017 as the Grassroots Coach Educator overseeing the technical and curriculum development for the eight different foundational level in-person and online courses that focus on each game format (4v4, 7v7, 9v9, and 11v11), as well as the D License Course. He has guided the training and support for the nation's network of 500+ coach educators through the Grassroots Instructor License Course from 2018-2020 and now oversees the US Soccer Coach Educator Education and Development plan. In 2021, Zac helped launched a pilot program called Coach For Community which provides free coaching resources and education for under-resourced coaches. He has a variety of experiences with the game of soccer including programs such as Parent Engagement, the Olympic Development Program, and outreach/grassroots soccer programs in underserved communities.
Zac was previously the Technical Director for Alabama Soccer Association where he served four years (2013-2017); during his tenure Alabama was the fastest growing state association in regard to player registration (11,000 to 25,000+ players). Zac is originally from Memphis, TN and played collegiate soccer at Bethel University in McKenzie, TN. After graduating with honors from Bethel in 2001, Zac attended graduate school at the University of Alabama for a Ph.D in Cognitive Psychology. He holds a Masters in Cognitive Psychology as well as a Masters in Human Performance with an Emphasis in Sport Management. After working for the United States Olympic Committee in Colorado Springs during the 2008 Beijing Games, Zac relocated from Alabama to Evergreen, CO to serve at Stingers Soccer Club from 2009-2013 in a variety of roles for the small, community-based club including the Developmental Director of Coaching for ages 4-12, and then later as Girls Director of Coaching, and then as General Manager before departing for a second stint in Alabama. Zac holds some of the most distinguished coaching licenses in soccer including the U.S. Soccer "A" License, National Youth License, Grassroots Instructor License, and the United Soccer Coaches Premier Diploma and Advanced National Goalkeeping Diploma. Zac believes strongly in multi-sport participation and is also a 200-hour registered Yoga Teacher as well as a PSIA-AASI Level 1 Snowboard instructor.
Ani, is a native of Greece who lived six years of her life in the USA and since 2013 lives and works in Norway. She holds a PhD in sport psychology and is certified coach developer by ICCE. She's a full professor in sport psychology, pedagogy, and sports coaching, and leader/co-founder of the Sport and Social Sciences research group at Inland Norway University of Applied Sciences. She comes from the alpine ski family and continues to serve the FIS as an alpine Technical Delegate official at international races. As a mental coach she has worked with over 20 sports worldwide. Through her education, transnational academic career and applied practice with sport and corporate performers, she developed multi-cultural know-how and extensive, specialized (and versatile) skills and experience with sport, academia, performance consulting, action-based organizations. She has taken on diverse roles for academic and professional development; NGOs and inter-governmental groups, international/national sport federation committees, professional organization managing councils. For more than two decades she works to support the women and sport movement and advance opportunities for women in and through sport. As a researcher, her interest has been on matters of psychological welfare (sexual exploitation of women athletes) and the nuances of athletes' and coaches' mental game (elite athlete-to-coach transition, elite coach stress, self-talk, cognitive hardiness, competitiveness, coping), methodically explored through the qualitative research lens. In Norway, with the support of Norway's Olympic Training Center and her department, she found space, time and opportunities to research practical knowledge gaps and to apply the findings back into the sport setting, via seminars on coaches' stress before Olympic Games, federations working to support athletes retiring into coaching, teaching material on developing the professional coaching identity, etc. Ani, has published in books and refereed journals, usually in English but also in her native language, Greek.
Registration Costs for In-Person Summit
Refund Policy – SPOKANE EVENT
Particularly now, we recognize that life can interfere with plans.  If you find that you are unable to attend the 2022 North American Coach Development Summit, please notify us as soon as possible.
Up to two weeks before the event, refunds will be issued for your full registration cost minus the cost of the 2022 Virtual Event.
Refunds within two weeks before the start of the 2022 North American Coach Development Summit will receive a full registration minus the cost of the 2022 Virtual Event and a 10% event fee.
No refunds will be issued once the program begins.
The 2022 North American Coach Development Summit will be at the Centennial Hotel in downtown Spokane, WA
Summit Presenter Guidelines
2022 North American Coach Development Summit Presenter Guidelines [PDF]
Get our official conference app
For Blackberry or Windows Phone, 
Click here
For feature details, visit
Whova
Spokane is a beautiful city located in eastern Washington state, easily accessible by the Spokane International Airport (GEG), just 7 miles from downtown. An easy scenic half-day drive from Seattle, Spokane is known as the "Inland Northwest" and is home to Gonzaga University and the Lilac Bloomsday 12K. Must see things in and around Spokane include visits to the Spokane Falls, Riverfront Park, Riblet Mansion and Arbor Crest Winery, and the Northwest Museum of Arts and Culture.
To obtain the discounted rate of $159/night the attendees need to call 1-844-733-3305 and identify themselves as the USCCE Summit attendee or you can make reservations online using this link:
North American Coach Development Summit
This discounted rate will only be applied if the reservation is completed before Wednesday,
May 5th, 2022.
Recommended Reading for the Coach Educator